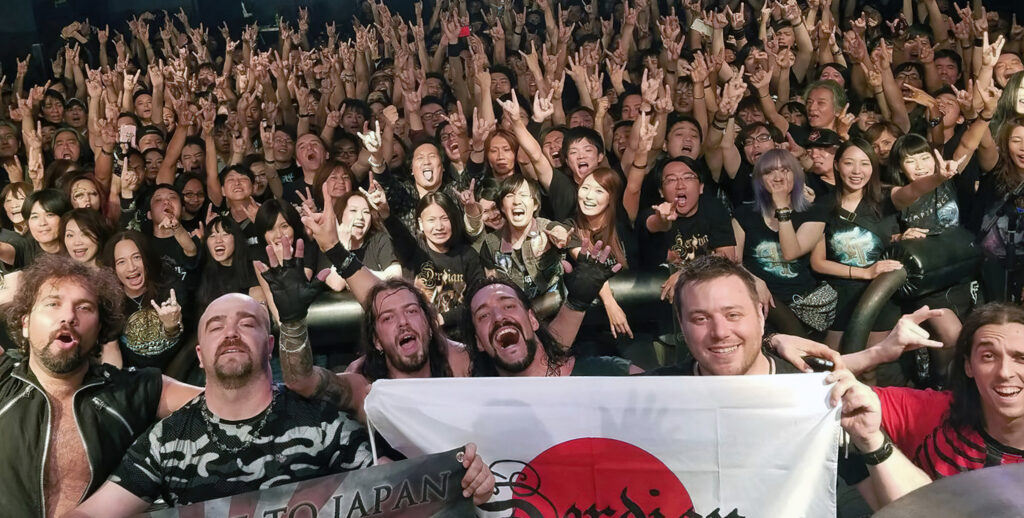 DERDIAN are a Symphonic Power Metal band born in 1998 in Milan. Proudly self produced, self distributed and independent. Their music is a fusion between symphonic orchestrations and thrash metal riffs with powerful speed drumming and unique easy listening catchy melodies.
In 2004 after two demos: "Revenge" (2001) and "Incitement" (2003) the band signed the first record deal for Steelheart records and published the debut album called "New Era pt.1″. In short the album became a little jewel among the power metal fanatics: 100.000 followers on the old MySpace witnessed the popularity of the band. The raising weight around the web got the attention of the prog american major label Magna Charta and in 2006 Derdian signed for 2 album "New Era pt.2- War of the Gods" and "New Era pt.3- The Apocalypse". The fame in the powermetal world scene got huge, especially in latin America Asia and East Europe but the american label didn't give any kind of support to the band so in 2013 Derdian splitted from Magna Charta choosing to be independent.
In 2013, after 3 fantasy albums, the band breakup with the former singer Joe Caggianelli and hired a quite famous italian youtuber Ivan Giannini releasing its 4th full length called Limbo. A different voice and a heavier thrashy sound with lyrics about modern society neurosis marked the new path to follow. The result of this new approach was great worldwide sellings and a brand new major distribution deal for Asia with the Japanese label Spiritual Beast. In 2015 the band released the world claimed album Human Reset, top power metal Album of the year in many magazines (Metal Hammer above all) and powermetal webzines and top selling metal album on amazon Spain for several months.
After participating at some international festivals such the Italian Total Metal Festival and the Made of Metal in the Czech Republic, the band temporary splitted with the singer Ivan Giannini, busy in the pop tv show The voice of Italy. Meantime the first greatest hits called "Revolution Era" was released with the participation of internationally renowned artists as Ralf Scheepers (Primal Fear), Fabio Lione(Rhapsody of fire, Angra), DC Cooper(Royal Hunt), GL Perotti (Extrema), Terence Holler (Eldritch) and many others. The album came out in June 2016. In 2017 Ivan came back and in september the band successfully toured Japan, supporting Nuclear Blast bands as Freedom Call and Twilight force. In september 2018 Derdian have independently tour Japan again. The 7th album "DNA" has been released in July 2018 and the 8th album "New Era pt. IV – Resurgence" will be released soon!